Article
Nectar, Inc. Names Magnus Stjernstrom as Chief Technology Officer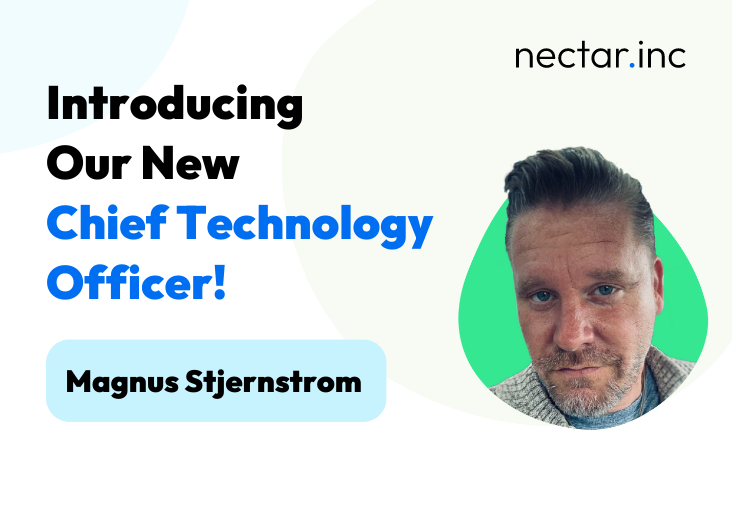 Innovative Technology Leader to Drive Next Phase of Growth and Innovation
[Stamford, CT] — Nectar, Inc., a leader in education services and technology, is pleased to announce the promotion of Magnus Stjernstrom to the position of Chief Technology Officer (CTO) & SVP of Product Development. In his new role, Magnus will leverage his extensive expertise to lead Nectar's technological advancements and play a pivotal role in shaping the company's strategic direction.
Since October 2022, Magnus has been a key member of Nectar's executive team, holding the position of Senior Vice President, Technology & Product Development. During his tenure, he has played an integral role in building Curie, a revolutionary technology platform designed to optimize the educator experience. Curie provides educators with curated just-in-time resources that streamline their approach to teaching, course iteration, and creation of impactful learning experiences that enhance student engagement. Curie is offered by Alchemy, Nectar's educator-focused business, which is dedicated to partnering with and empowering educators to develop and deliver humanized, inclusive, and engaged learning experiences.
Prior to joining Nectar, Magnus served as director of product management for Blue Yonder, a leader in digital supply chain management. Magnus led the development of identity and access management systems and a centralized API solution for Blue Yonder's SaaS Platform, elevating security and user experience. As a product management leader, he guided the transition from traditional to SaaS models, ensuring seamless adoption. This work is particularly significant as Nectar effectively advances a similar transformation. Magnus's adept partnership efforts also integrated key collaborators like Snowflake and Microsoft, enhancing platform capabilities and cementing Blue Yonder's market leadership.
Over his illustrious career, Magnus has consistently delivered remarkable results, having contributed to building shareholder value exceeding $500 million. His diverse experience spans more than two decades and includes prominent roles at industry giants such as McAfee, PGP, and IDology. Notably, as CTO at IDology, Magnus was instrumental in establishing a world-class SAAS and Cloud Security Services team from the ground up, leaving an indelible mark on the company's success.
Carrie O'Donnell, Nectar's CEO, commented, "We are thrilled to have Magnus Stjernstrom step into the role of Chief Technology Officer. Magnus's remarkable track record of innovation and his dedication to driving technological excellence align seamlessly with Nectar's vision for the future as we help institutions effectively bring AI, media and new technologies into teaching and learning. His leadership will be instrumental as we continue to develop groundbreaking technology solutions for educators."
In a statement reflecting his enthusiasm for his new role, Magnus Stjernstrom shared, "I am honored to lead Nectar's technological journey as Chief Technology Officer. My passion for innovation, coupled with Nectar's commitment to transforming education through technology, creates an exciting synergy. Together with the remarkable team at Nectar, I am dedicated to pushing the boundaries of what technology can achieve in the education sector."
As Nectar looks forward to an era of technological innovation and transformative growth, Magnus's appointment as CTO stands as a testament to the company's dedication to pioneering advancements in education services and technology. His commitment to excellence and his vision for a technology-enabled future promise to fuel Nectar's leadership in fostering learning that puts people at the center.
For more information, please contact:
Marisa Gregg
VP, Marketing
mgregg@nectar.inc
About Alchemy:
Alchemy is your strategic partner in empowering educators to be at their best and to meet the needs today's learners. Through our platform, including purpose-built technology and on-demand services, we provide practical tools, curated resources, and expert support to optimize the educator experience, saving them time in creating engaging and inclusive learning experiences. Alchemy is part of the Nectar.inc family.