Recap
ChatGPT Unleashed: What to Expect This Fall and How to Prepare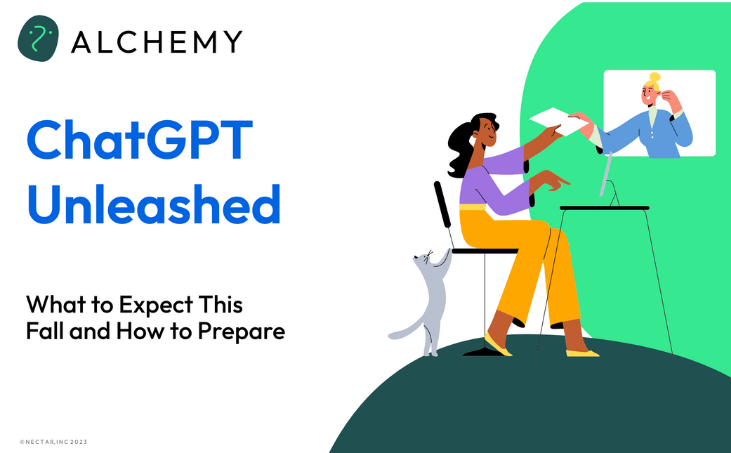 In this lively webinar the group discussed where we have been with AI in higher education, our current state, and what is on the horizon. They also offered considerations for both educators and administrators, and an example of how California State University, Channel Islands is preparing for AI in teaching and learning this Fall.
Brett Christie, Ph.D., VP for Educational Innovation & Inclusivity at Alchemy, began by empathizing with instructors and academic champions who are grappling with the current state of "double disruption" in higher education. While educators are still feeling the effects of the pandemic, with the majority now teaching across 2 to 3 modalities, they are now faced with a new disruption in ChatGPT. Engaging with this fast-moving technology is yet another challenge for instructors and academic champions, many of whom are already feeling overburdened and burnt out. Brett also offered a brief overview of the history and evolution of AI and recent reports about the potential impact of AI on teaching and learning.
Heather Brown, Ph.D., Instructional Designer at Tidewater Community College and co-moderator for EDUCAUSE's AI Community, shared key trends and applications of AI in higher education, where it has the potential to transform the sector through providing personalized learning, improving student outcomes, and enabling educators to be more effective. These trends and applications included:
– Personalized learning
– Grading software
– Smart content
– Intelligent tutoring
– Tutoring and support
– Research and scholarship
– Language learning and translation
– Virtual Reality and Augmented Reality
– Accessibility
She also discussed some critical watch outs regarding AI as it relates to higher education, including bias, security and privacy risks, erroneous information, academic integrity and ethical concerns.
Heather offered suggestions for both educators and administrators to consider moving forward, highlighting that educators start to explore the tools to better understand the output. She also recommended that educators reevaluate assessments, considering how to incorporate the technology to help students be more thoughtful and creative and incorporating exercises and assignments that are meaningful and reflective.
Heather shared some thought starters to get the participants started with writing effective prompts, suggesting that educators consider refining prompts to add tone or to reflect the diversity or level or learning among the learners. She also recommended that educators set expectations with students for use of AI in their courses, while discussing with them how they are using it and how they can collaborate and learn from each other. She stressed that educators should help students to understand the risks of using AI and how usage related to the code of conduct, plagiarism and academic dishonesty.
Heather spoke about the need to pay attention to AI writing "co-pilots" that will be directly embedded into productivity suites like Microsoft Office and Google Workspace to assist users in generating content. Educators and students are using these tools, and anyone will be able to opt in to easily incorporate them into their workflow.
Lorna Gonzalez, Ph.D., Director of Digital Learning at California State University-Channel Islands, presented on the AI Residency program at CSUCI that is helping to prepare the campus for AI as part of their larger digital learning strategy. The residency involves one faculty member and one staff member working with the Teaching and Learning Innovations team to experiment with and critically evaluate generative AI tools. The goals of the residency are to support experimentation, advance conversations around AI in education, and network with colleagues. The format includes regular meetings, demonstrations, critical conversations, and an AI Slack channel for ongoing communication. The residents have already made progress in using AI for administrative tasks and teaching an AI course.
To gain deeper insights and learn from these experts, we invite you to watch the live recording of this engaging webinar. Feel free to explore the valuable resources gathered from both us and our audience during our recent webinars on ChatGPT and AI in higher education.
Watch Now