Recap
Harnessing the Power of AI: Transforming Assignments and Assessments in Higher Ed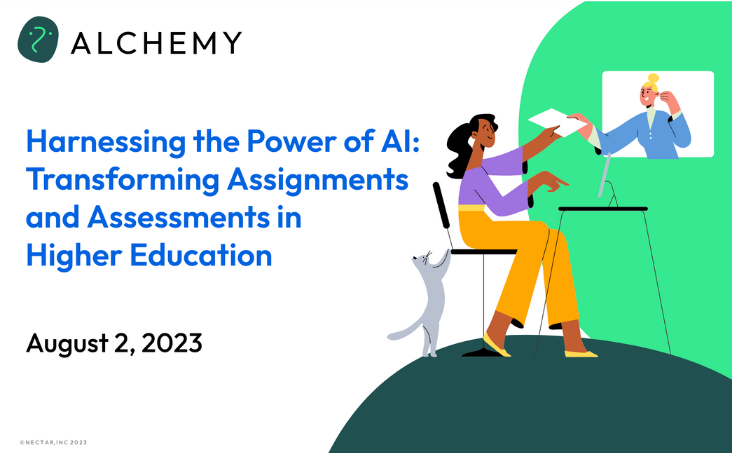 In the rapidly evolving landscape of education, artificial intelligence (AI) offers many benefits for educators seeking innovative ways to engage and challenge their students. Our recent webinar delved into practical ways to use AI to develop assignments and assessments, opening up new horizons for educators and students alike. In this blog post, we'll recap the key insights from the webinar and explore how educators can create authentic assessments that incorporate AI while promoting critical thinking, analysis, and real-world connections. 
The webinar featured Professor Danny Liu, Ph.D., an esteemed associate professor from the University of Sydney, known for his expertise at the crossroads of educational technology, student engagement, analytics, pedagogical research, and professional development. Danny's contribution to the AI conversation, through publications on prompt engineering, student AI engagement, and assessment work, has solidified his standing as a thought leader in the field. As the co-moderator of the EDUCAUSE AI community, Danny is well-poised to guide educators in the integration of AI into their assessment practices. ………………………………………………………………………………………………………
Using AI to Enhance Assignments and Assessments
The webinar kicked off by highlighting two distinct ways that AI can augment student assignments. In one instance, AI generated a reflection that vividly depicted scenarios that had never occurred, even infusing emotion into the narrative. Another example showcased AI's capability to analyze genuine scientific research papers. This demonstration underscored the challenge of crafting assessments that are "AI-proof," given the technology's remarkable capacity to produce authentic content.
Addressing this challenge, Danny suggested a shift toward assessments that integrate AI while requiring substantial input from students. This approach acknowledges the potential of AI to enhance assignments, while also placing importance on the contributions and unique insights that students bring to the table. Danny proposed that we may have arrived at a juncture in education where authentic assessments necessitate AI involvement. ………………………………………………………………………….……………………………………………………………………………………………………………………
Framing Learning Outcomes for the AI Era
Danny emphasized the foundational step of defining clear learning outcomes aligned with the contemporary needs of students. Crafting assessments that encompass critical interpretation, critical thinking, analysis, discovery, and synthesis is paramount. This prepares students for the dynamic demands of the digital age and cultivates skills that go beyond rote memorization.
To achieve these outcomes, Danny introduced the "2 lane approach." The first lane centers on assuring learning outcomes, allowing students to showcase their knowledge. The second lane revolves around human-AI collaboration, introducing an element of authenticity and motivation. This balance ensures that students are actively engaged in critical thinking while AI complements their efforts. ………………………………………………………………………………………………………………………………………………………………………………………………………………
Unlocking AI's Potential in Assessment Creation
Danny then delved into practical strategies for integrating AI into assessment creation. He provided concrete examples of prompts educators can employ to spark student engagement and creativity. Additionally, he demonstrated how AI can assist in drafting rubrics, saving educators valuable time that can be redirected toward personalized instruction and student interaction.
AI's role in refining feedback notes emerged as another valuable tool. By leveraging AI, educators can craft constructive and encouraging feedback that propels student growth and success. This technology-driven enhancement not only benefits students but also optimizes the educator's workload. ………………………………………………………………………………………………………………………………………………………………………………………………………………
Navigating the Nuances of AI Detection
The webinar culminated with a discussion on the nuanced challenge of detecting AI in student work. Danny highlighted common pitfalls such as false positives and the ease with which AI-generated text can evade detection. To navigate these complexities and ethical considerations, Danny proposed an open dialogue and collaboration with students. Drawing from his experience at the University of Sydney, he emphasized the importance of equipping students with AI skills through resources and training. ………………………………………………………………………………………………………………………………………………………………………………………………………………
Empowering Authentic Assessments through AI Integration
The webinar illuminated the transformative potential of AI in education. Integrating AI into assessment practices opens avenues for authenticity, critical thinking, synthesis, and real-world connections. By embracing the "2 lane approach" and partnering with AI, educators can assure learning outcomes while fostering an educational environment that prepares students for the challenges and opportunities of the digital age.
Incorporating AI into assessments not only redefines the learning experience but also underscores the symbiotic relationship between technology and education. As the educational landscape continues to evolve, embracing AI's capabilities empowers educators to craft assessments that resonate with students, cultivate skills for the future, and ignite a passion for learning.
To gain deeper insights, we invite you to watch the live recording of this engaging webinar. Feel free to explore the valuable resources gathered from both us and our audience during our recent webinars on ChatGPT and AI in higher education.
Watch Now