Article
5 Ways to Encourage Faculty Adoption of Hybrid Learning Programs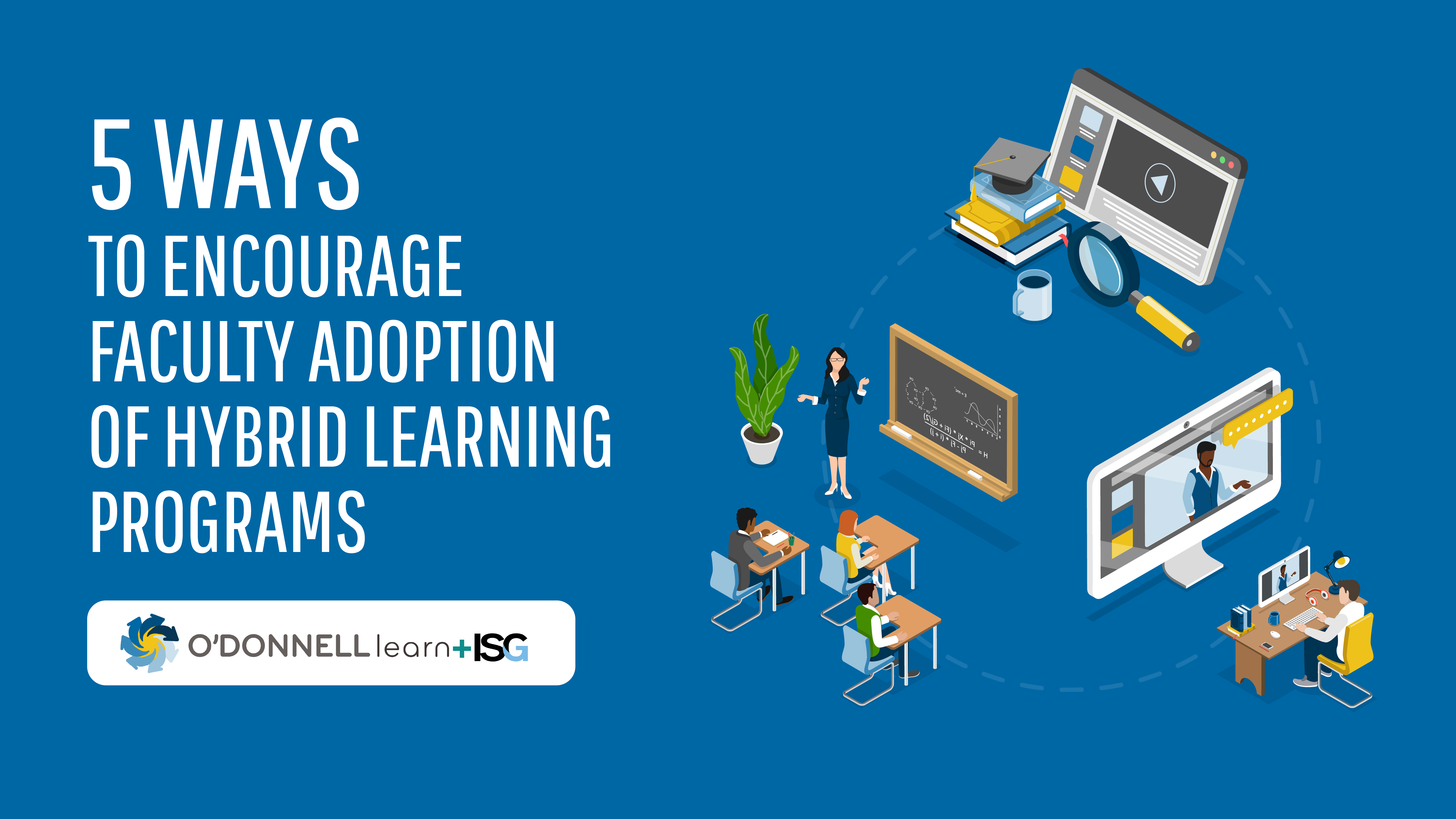 Hybrid learning may have been a stop-gap measure for many universities during the pandemic, but many students hope hybrid courses will become a permanent offering. According to a 2022 Cengage survey, 3 out of 4 students want hybrid and fully online course options to be available on an ongoing basis.
This growing preference for hybrid learning experiences also coincides with increased rates of faculty burnout, however. Since the pandemic, the number of higher education employees ready to leave their jobs has climbed to 57.2%. While the reasons for faculty burnout are varied and complex, a rapid shift to hybrid learning environments and a corresponding drop in student engagement has contributed to overall feelings of overwhelm.
Faculty want to improve their interactions with students, offer additional supports, and create excellent learning opportunities, but they increasingly feel overextended as they try to learn instructional design and a new technology platform on the fly. This learning curve combined with a lack of resources, insufficient training on new technologies, and increased course design workloads have all contributed to growing frustration and resistance to change.
As universities implement new hybrid programs, change strategies must address these frustrations at their source. Here are five key ways to make the shift to hybrid learning a positive experience.
Map Out End Goals and Benefits

Before making any change, either procedural or technological, leaders should clearly articulate what they are hoping to accomplish. Communicating end goals and tangible benefits for students, faculty, and the institution as a whole will help faculty members catch the vision for change themselves. Start by answering questions like these:

What kind of culture do we want to promote?
How can we use technology to support collaborative learning?
What supports do faculty need in developing hybrid courses?
How can we make courses accessible for all of our students?
How will investing in hybrid learning programs support our institutional mission?
What infrastructure and training investments do we need to make?

Consider Existing Culture

An institution's existing culture should help shape faculty perspectives on hybrid learning. If a hybrid program doesn't support internal cultural values, it will be difficult to bring faculty members on board. Training and communication should clearly explain how mission-critical values will be preserved and even expanded through the technology.For example, if the institutional culture prioritizes experiential learning, consider technology and resources that create engaging online experiences while also supporting in-person learning objectives. If learning experiences center on collaboration and class discussion, choose platforms and supplemental technology that can create similar environments online.

Use Multiple Communication Channels and Strategies

Change is difficult for everyone, especially in high-stakes academic environments. Clear, consistent, and frequent communication can help create a smoother experience for leaders and faculty alike. It also puts people at the center of the change process and increases the likelihood that they will use the new resources at their disposal. Here are several ways to help people feel more comfortable with proposed changes:

Communicate using a variety of channels, including training sessions, email, your internal intranet, and any other channels you regularly use.
Provide frequent opportunities for feedback, and take questions and concerns seriously.
Discuss impacts for both faculty members and their students.
Talk about how new technology and processes will affect daily work.
Give departmental leaders and faculty time to absorb the change, understand the benefits, and adopt your vision as they get used to new technology and procedures.

Give Faculty the Right Tools

During the pandemic, many faculty members had to deploy online versions of their courses abruptly and with little time to prepare. Switching to an online learning environment midstream was likely an unpleasant and difficult experience. Many of these professors may not be eager to make those changes permanent.This time around, however, institutions can make the process easier by providing tools and resources that support intentional, strategic course development. These tools may include new technology platforms, updated computers and smart devices for faculty members, improved infrastructure, and program-specific technology that considers how students learn and what they need to succeed.

Provide Sufficient Training and Support

The technology learning curve remains a significant hurdle to confident adoption of hybrid programs for many faculty members. As they become bogged down with more tech-based development and design and less teaching, faculty may be harder to retain.To address this issue, universities will need to invest in ongoing training opportunities, instructional design assistance, and technical support to bring their vision to reality. Without sufficient support, course development workloads will create resistance to hybrid programs as faculty are pulled away from their primary tasks of teaching and supporting students.
While permanently incorporating hybrid learning into long-term institutional culture may be intimidating for faculty, exposure to new learning technologies and environments may also spark ideas for new ways to reach disengaged students.
The challenge for many universities will be maintaining enough internal bandwidth to deliver needed support for the changes they hope to make. One way to overcome this problem is to outsource technical support roles to a third-party provider rather than seeking to hire internally.
O'Donnell Learn's Faculty Concierge program provides comprehensive support both for individual faculty members and for institutions holistically. From instructional design best practices to technical support to program design and beyond, Faculty Concierge provides targeted help where it's needed most to make your program successful.