Article
4 Keys to Designing Effective, Engaging Hybrid Courses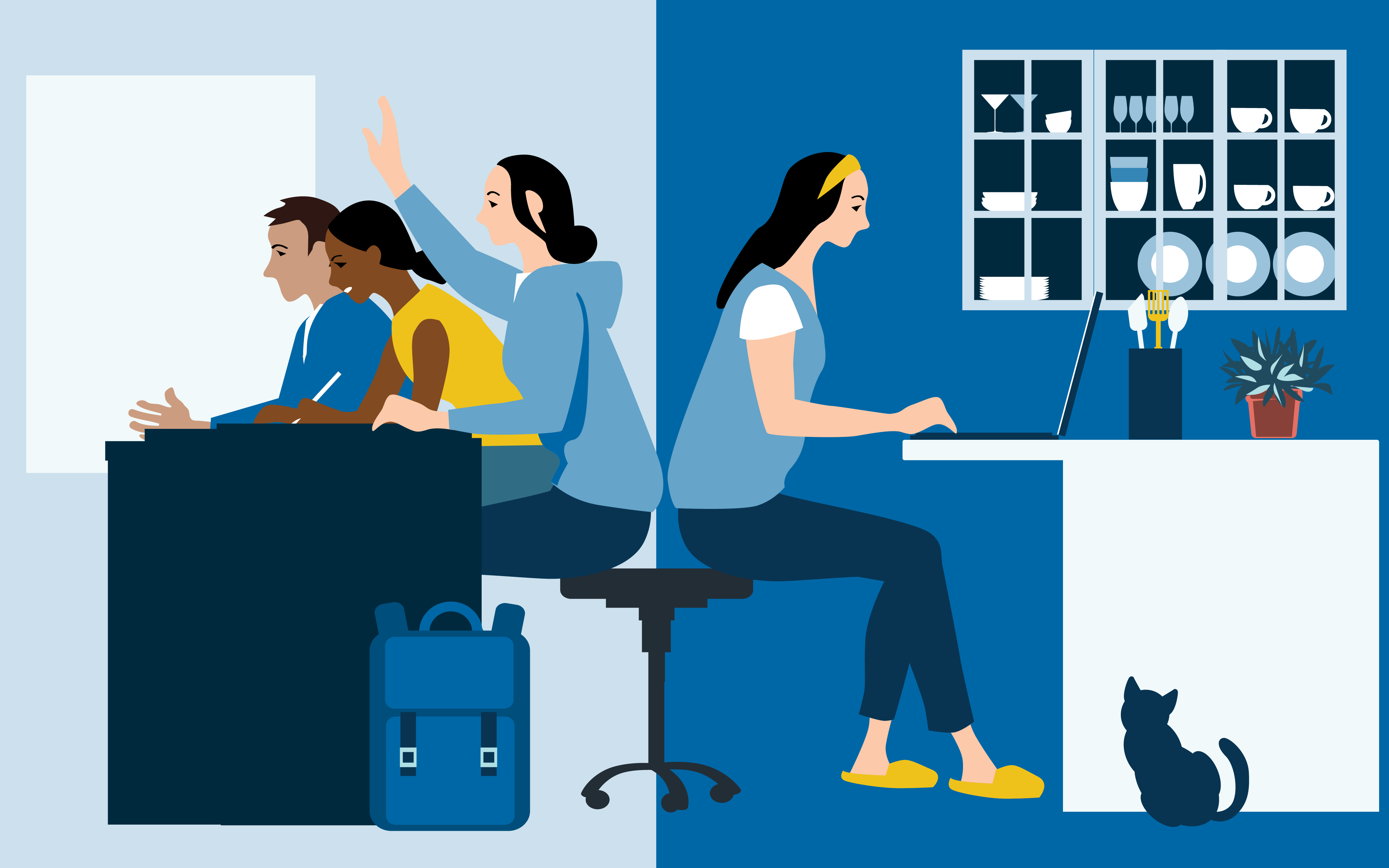 The value of a college education can't be underestimated. Despite the challenges of the pandemic and the economy, one-third of college students and faculty believe that education now holds greater value than it did in 2020 according to Barnes & Noble College Insights' College 2030 report.
However, faculty and students often differ on what that education should look like. The report found that while nearly half of students prefer a hybrid class format, only 35% of faculty agreed. Hybrid learning is a convenient option for many students, but it is not without its struggles. Many faculty find it more difficult to engage students online and may struggle with a technology learning curve as they develop courses designed for hybrid learning environments.
Despite these challenges, hybrid learning is here to stay. According to the 2021 Survey of College and University Chief Academic Officers conducted by Inside Higher Ed and Hanover Research, 74% of college provosts plan to offer more hybrid courses in the future.
In the midst of these changes, faculty may need additional resources and tools as they aim to support students, encourage effective learning, and create engaging content for hybrid courses and programs.
Building Effective Hybrid Learning Experiences
Successful hybrid courses rely on effective integration of in-person and hybrid learning environments. In many cases, this requires a mindset shift for faculty members as they create a best-of-both-worlds learning environment.
Here's what faculty members can do to create the best possible learning experiences in a hybrid environment.
Take Advantage of Available Technology

As universities invest in technology to support hybrid course development, faculty members will need to spend time learning to use that technology effectively. As instructors become more familiar with the capabilities of the tools available to them, they can use those tools to connect with and engage students in both in-person and virtual environments. Here are some options to explore:

LMS – There are many tools available through the institution's LMS that can improve learning experiences. These may include interactive learning tools, course mapping and building functions, collaborative platforms, assessment tools, and more. Faculty should dig deep into these functionalities so they can gain the most benefit from the resources built into a system they probably already use.
Audiovisual tools – High-quality cameras, microphones, and audio equipment will help faculty engage with their students more effectively. They may also want to explore additional technologies such as a virtual whiteboard or interactive projector to complement their teaching style.
Videoconferencing tools – Videoconferencing tools like Zoom, Google Meet, or Microsoft Teams are already widely used to enhance collaboration and class discussion. While most faculty gained plenty of experience using these tools over the course of the pandemic, it's worth looking into additional functionalities for ways to help students feel more connected and engaged.

Create Learner-Centered Online Experiences

Learner-centered design analyzes the students and their needs first, and then bases course design and development on helping those students reach desired learning outcomes. Learner-centered experiences may include active participation in group discussions, problem-solving exercises, collaborative presentations, and opportunities for students to work at their own pace. These are all excellent ways to improve student engagement while incorporating the flexibility many students are looking for.

Leverage Instructional Design Principles

The goal of instructional design is to help students engage with and retain information in an online context. Following the principles of effective instructional design will benefit course development in several ways:

Improved student engagement
Program and content consistency
Time savings and efficiency
Effective use of tech tools

While all of this sounds fairly straightforward, it takes a range of technical and graphic design skills to translate complex subject matter into visual and interactive learning experiences. This process can create hurdles for faculty who may not be trained in the tools and platforms being used. If that's the case, consider working with a third-party instructional designer who can help design the best possible experiences for students.

Prioritize Digital Equity and Inclusion

Student accessibility may be influenced by socioeconomic backgrounds, technology knowledge or availability, special needs and disabilities, language barriers, or cultural factors. Digital equity and inclusion efforts take a close look at the online experience to ensure equitable access for all learners. These efforts may include evidence-based design elements, technology training, instructional videos, forums for questions, and broadband Internet access.
Charting Your Next Steps
Ideally, hybrid courses will create engaging, supportive learning environments for all students in both in-person and online contexts. However, the hybrid learning curve can present significant challenges for faculty as they design and create these courses.
O-Donnell Learn's Faculty Concierge Program helps faculty overcome these challenges by providing hands-on support exactly when and where it is needed. We help teachers create engaging, effective hybrid learning experiences that support students while maintaining high standards of academic excellence. From specific technical elements to high-level design, Faculty Concierge partners with higher ed faculty and institutions to help students succeed.